We had a chat with two young transport enterprenours who decided to invest with a clear idea in mind, despite being young and unexperienced.
At a time when many transport enterprises are closing business and it is really hard to find new activities in a monthly-based fluctuating world, it is really rare to encounter new faces ready to do some business.
As unusual as it sounds is the fact that these people are youngsters, who decided to invest their money in the transport area. We initially meet these people at the Wtransnet Foundation's sponsored event "Formation Days", when we decided to deepen our knowledge of their activity. They are José from Transvolando SL, and Rodian from Global Arion Logistics SL.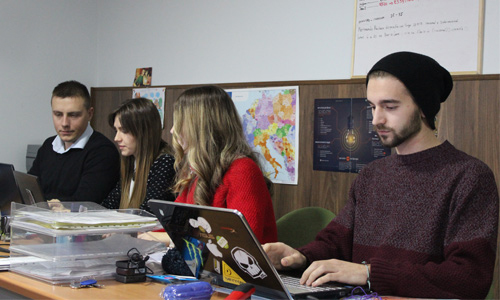 Rodian is 24, a Moldavian-born Madrid-resident, whose presence in Spain dates back to 2001. He told us how he insert himself in the transport world, under the always present eye of Cristina, his moldavian wife. They have recently started a family that is one of their two lifelong projects together with their company, and much of their time and responsibility are occupied by these activities.
"My father was a delivery man and he was often unemployed. I was studying odontology and I was working part-time to support my studies as a traffic manager in a transport company. I decided to create my own activity in order to help my father do what he already knew how to do. In the end, if I was able to find a load for a big company, I would surely have been able to find something decent for him".
It might seem easy, and Rodian doesn't count the hard times he encountered to start his activity: "I did not have many difficulties because I always had the support of my family. Moreover we had the chance of asking a low interests mortgage to a public credit system company, that allowed us to start". He was able to buy second-hand trucks thanks to this money and, having a father who worked as a mechanic, he had someone to fix them and get ready for the road. Rodian seems to be really enthusiastic about his story, but his wife Cristina is way more reflexive:
"It was not as easy as he wants to sell it. After two months someone stole our new van and without it we had to pay our mortgage penny by penny."
Two years after they started their business and having faced all the difficulties a small medium enterprise has to encounter, especially late payments, Rodian's activity can now count on two vans, a body truck and a tilt truck.
The workshop can count on five people but who's really running the camp is Catherina, Rodian's sister, that takes control of the traffic. "We are specialized in the express because it pays more if compared to groupage. We run both local and international routes, especially towards Germany. We have agreements with regular customers in the national transport area thanks to Wtransnet."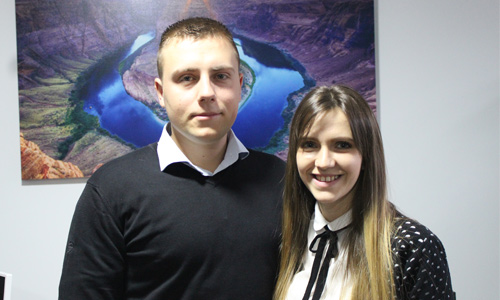 In a short period of time they are going to start a new shed to control their activity and the stocking of goods for the local distribution. Nothing seems to scare them even if, at this moment, they are not planning to expand the fleet. Their experience in the German world gave them new ideas and convinced them to look for certifications and compliance, sharing with confidence the ideals that run Wtransnet.
"We want to certify ourselves as transporters, to get more attention than what we can get as simple commissioners. We are a small company and we don't have the strenght to negotiate. This way we want to differenciate ourselves", Rodian says.
Without any further ado, moments before an important meeting at Cristina's parents room that shares the function of being the company's office, we leave them to meet José and Tania from Transvolando SL.
They recieve us in their house, where they have built a workshop. "I beg you pardon for recieving you in my house, but at the moment we come to realize that we did not need more room", José says.
José and Tania, 30 and 27, are running a company without having any previous experience in the transport world. They decided to start this business less than a year ago, moved by Tania's brothers who are active in this sector. As for the couple we have visited earlier on, also José and Tania are parents of a daughter. This did not scare them to invest:
"This past year has not been an easy on. We had so much to do and the workload was good. What scared me the most – José says – was the idea that nobody would have given us a load because no one knew us. Being part of the Wtransnet community has opened up many new roads for us".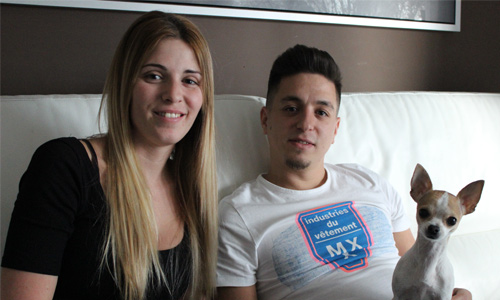 Transvolando SL progression has been magnificent. In less than a year they are now able to fleet five trucks, two of which can be rented in a period of high workload. Three drivers are employed. Recently, they have started to offer loads in the freight exchange.
When in need, they decided to invest beacuse they realized that they could not count on anything else than the typical discounts offered to young enterprenours by the government.
They started with a second hand truck and they soon realized how that was a poor decision, when they encountered breakdowns and high maintenance prices. At the moment, this is the reason why they are not keen on investing in international routes:
"Our trucks are not ready for long distances abroad, where any breakdown can break your finances up. More than that, our drivers could get fined or encounter troubles to get back home, or there could be a different law system that can force us to stop. That is why we don't believe in this sector for now."
They are planning to buy a new truck as soon as possible, knowing the fact that this can represent something really positive in the end. They are finally getting over the freighten of any drawback, having started so recently. Benefits are there for the years to come.
Working with trusted drivers has been another difficulty they had to face: "We have had some very poor working experience with drivers that, knowing that we are new in the business, tried to fool us", Tania sharply says.
After that, a classic: José is very angry at late payments: "It is a shame that we have to work with people that pay us up to 70 or 90 days. I am really annoyed by this, knowing that I have to commit all my finances for the big companies".
Our interview comes to an end. We have visited youngsters that decided to invest in a sector that nobody would have invested in. They started as young, afraid people and they come up with brilliant, succesful ideas.