Qualis Logistics, the premium freight exchange exclusive for audited companies, was presented at Barcelona's International Logistics Exhibition (SIL).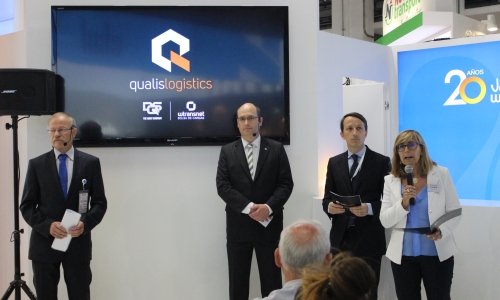 Why a premium freight exchange?
A premium freight exchange is the right solution that allows to respond with quickness and flexibility to the client's needs. If a regular partner should not be able to provide its regular service, it will be easy to contact an important number of previously audited providers in Qualis Logistics.
Anna Esteve, Wtransnet founding member and Commercial director: "With Qualis Logistics the companies will find appropriate, qualified suppliers, having the option to contact them immediately because they have all the documents to be audited at the moment. Until now this flexibility was not possible".
Qualis Logistic offers more than any other freight exchange
Qualis Logistics is a freight exchange based on security and quality, specifically thought for industries such as pharma, chemicals, baby food and high value goods. This is the reason why only audited companies will have access to the freight exchange environment, having to hold at least one of the following certificates: ISO 9001 y 2800, TAPA, AEO, TRUSTED CARRIER (BGL), GDP, SQAS and QUALIFIED CARRIER (DQS).
This strict criteria only provides the access to those companies offering freights with proved solvency. Other requirements include lower payment terms, updated documentation and proprietary fleet.
It is severely prohibited to subcontract or resale a load, being Qualis Logistics based on Wtransnet. This is a mandatory requirement as unfulfilling this will be enough to be expelled from Qualis Logistics.
The agreement between DQS and Wtransnet
Qualis Logistics indicates the depth of Wtransnet and DQS commitment to taking on the challenge of offering a solution to the spot transport needs of those companies having specific logistic requirements unable to operate in the traditional freight exchanges.
Wolfgang Engel, CEO of DQS GmbH, the older German certification body, adds: "Companies that have not been audited before will then be able to own a certificate such as Qualified Carrier, without spending too much. When we start the auditing process, we are strictly checking more than 40 relevant criteria so that the companies not fulfilling the requirements will not be audited".
Qualis Logistic will be launched after the summer and it is currently in its pre-registration phase. This agreement will bring the 20-years-experience of Wtransnet to a next level, creating a safer marketplace of collaboration.