A while back we talked about the increase in the use of in-cabin connected devices to improve transport efficiency; this time we take a look at whether drivers consider this technology helpful or a source of stress.
According to the Autobild article Technology on board: a help or a hindrance for drivers?, 10% of drivers suffer stress behind the wheel. But technology is not the only source: other factors in the day-to-day life of transport professionals can also cause stress. We wanted to find out more about driver habits behind the wheel and conducted a survey of 150 self-employed Spanish hauliers. These are our conclusions:
In-cabin technology
The drivers surveyed have incorporated technology into their work routine, with the majority using both a Digital Tachograph and a GPS Navigator (82%). A smaller but equally high 49% use mobile apps and 15% use fleet tracking systems.
In terms of the most frequent activities, the high use of freight exchanges to search for return loads (70%) is noteworthy, followed by surfing the internet for fun (61%) and using control systems to manage the hours on the road and plan routes (28%).
When asked to what extent technology facilitates their work, the answer is unanimous: 98% say that it helps or significantly helps their work.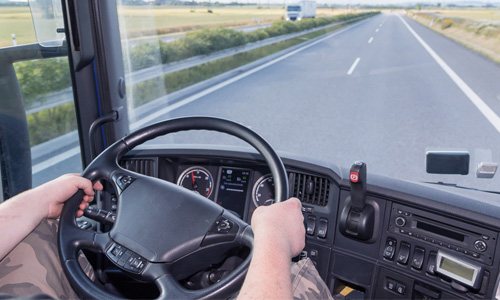 Stress factors for hauliers
If technology isn't stressing out our drivers, what is?
One of the things that respondents indicated as the main source of stress is meeting the arrival times at the loading or unloading points (69%). This is followed by the negligent driving of other cars on the road (54%) and properly complying with the rest periods mandated by law (48%).
Waiting times are also a factor that should be taken into account: the vehicle is stopped for loading or unloading of goods for 14% of the time, which is also discussed in the article on in-cabin connectivity.
Bad habits of passenger car drivers
Passenger cars are not blameless. Among the most common habits that respondents have pointed out as most annoying: not using the turn signal, merging onto the highway early to get in front of the truck and irregular lane changes.
In general, what bothers truckers the most is the lack of awareness that the truck is a heavy vehicle with limited speed, a fact that causes problems with other vehicles on the road and results in reckless driving and accidents.
Good habits and health behind the wheel
It's no secret that eating well and resting on a schedule reduces stress, two topics that we also asked our drivers about. While 89% say they respect driving and rest periods, only 46% correctly organise shifts, hours and work days. More worrying is the percentage that says they sleep enough (38%) or exercise regularly (14%).
If rest is an area to work on, food is even more so for practically every driver, since only 18% follow a balanced diet and say they have good eating habits.
In conclusion, we find the fact that technology that helps truckers when they are on the road is far from being a cause of stress, while other factors such as long waiting times for loading and unloading and the reckless driving of other cars on the road have a greater impact on hauliers' day-to-day stress levels.