Luismi Martín, the manager of RaudoVan, has brought his own experience in the transport world to the refugees in the campsites of Lesvos, Greece.
Sometimes the best ideas come in an unexpected moment. This must have crossed Luismi Martín's mind when he thought about this solidal transport project. After being touched by some TV footage concerning the cold and suffering migrants in Lesvos, Greece, during a conversation with his wife he decided to take action. The manager of RaudoVan (and one of the Wtransnet network partners) did not want to lose the opportunity to help and do something lots of people needed. As he says, he wanted to see it with his own eyes first: "I need to go there and understand who is being helped, why and how".
A commitment to help
Marta Sagristà is not just the RaudoVan marketing and communication manager, she has also been essential in supporting Luismi Martín's project. She knew from the beginning that his idea would have been successful: "He's just like this, a heart-giving person", Sagristà says. In order to be successful, they knew they had to spread the word to fully impact the cooperation community and start the clothes and shoes donations. Groups of volunteers created by acquaintances and neighbours began collecting, leading municipalities like Cornellà and Wtransnet to participate. This collaboration led to 10 industrial-use bags charging of clothes, answering a quest for goods that expanded successfully. Today's collection has risen to a new point where they have to select, discard or deposit in other place all the clothing they encounter.
Being there "on the field"
"We started with an express delivery, a 'really express' one" Martín says. Although laughing, he is telling us the story of a 72 hours journey that lasted three days (between January 25th and 28th). He had to take two boats to deliver. In order to successfully carry out the project RaudoVan looked for an organization that had some active presence on the field. They encountered a partner in the Swiss company SAO, who owns a warehouse in Attica. SAO's person in charge is Aris, RaudoVan's main contact in Greece, who elaborated a list with the camps' primary needs of goods.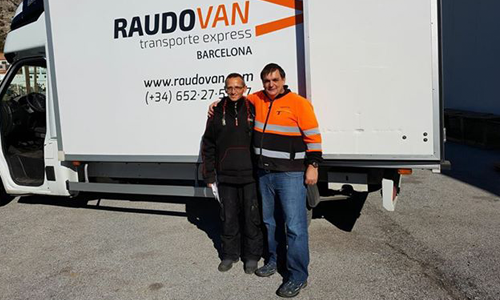 In Greece both Luismi and his attendant Poli could realize with their eyes wide open the harshness of the situation. They quickly sympathized "looking at Lesvos' footage and understanding that people were spending their time in low-end tent at the cold temperature of minus 5 degrees. Luismi also feels that the feeling he has could be conflicted: "being touched by such a level of poverty in a different reality is shocking, as well as acknowledging the humanitarian side of people". He also complains about the fact that "unfortunately there is a human trafficking issue here, reaching several countries' interests".
The initial plan to stay there for five days extended in the end. According to Martín, they decided to squeeze the journey to lend a hand doing different services with a van in the dire needing areas surrounding Lesvos. They collaborated with other associations such as Open Arms, Proactiva and Dirty Girls. Furthermore, Martín believes that "arriving there, building contacts and understand how to work" has been crucial to plan further actions on the field. He acknowledges that this one "is a very long conflict and those living in the campsites are now familiarizing with this kind of life since it represents their day-by-day situation and it doesn't seem to come to an end".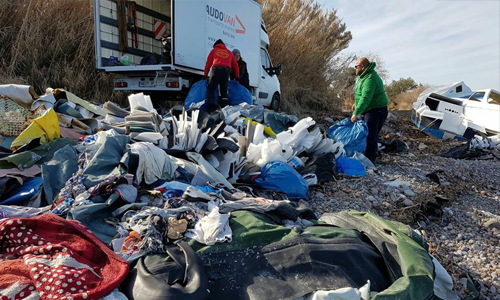 To keep on actions in the future
Alter knowing the real situation of Attica's warehouse, Luismi Martín's idea was to cooperate in the management and coordination "giving a short logistic training" for all those working there. He wanted to avoid turmoil, which is a current issue. This could also represent the cornerstone in building a real cooperative network. According to the manager, "once made the ties" he can move on in giving life to other possible projects.
The most impending one comes around in few weeks. There will be a shipping that will allow the company to use a van with folding kitchens to grant a greater independence to those living in Karatepe's campsite. Furthermore, RaudoVan's manager wants to promote specific projects related to the promotion of sports. Being a big rugby fan, he would love to bring the sport to these people. At the moment, Luismi Martín and all those involved in the project are looking to satisfy all the legal aspects needed to give stability and regularity to these actions.