Wtransnet participated this year at the 33rd International Supply Chain Conference from October 21st to 23rd, organised by BVL (Bundesvereinigung Logistik). BVL is the leading logistics association in Germany comprising thousands of companies, organisations and individuals in the field of logistics.
And despite a phenomenal entrance fee, more than 2,700 visitors came to hear, to see and to meet: to hear the conferences which were opened by the Minister of Transport; to see what's new at the stands of over 160 exhibitors; and above all to meet and to network. Networking possibilities were enhanced by a gala dinner the first day and an "afterwork party" the second day.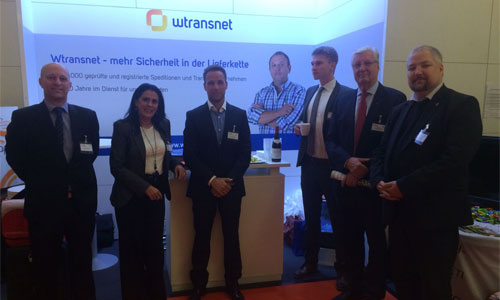 Though this congress is – together with the Munich fair, but which takes place only every other year – the most important logistics event in Germany, Wtransnet was one of the very few foreign exhibitors, at least the only Spanish one. By offering at our stand original Serrano ham, cheese and Spanish wine we underlined the geographical difference – and the reaction of the German public was warm and welcoming. Almost every visitor told of some contact with Spain, be it professional or as tourist, and it was the start of a conversation which led steadily to our project.
During the conferences the aisles were almost empty and we had time enough to visit and discuss with other exhibitors. Very interesting contacts were made this way. And there is something like a networking spirit that hovers over the congress: people who did not fit in our target range could help us with information or introduce us to targeted people. Persons appeared at our stand because they had heard from others about us.
We left the congress with many new and interesting contacts, a heap of information and the hope of future deals. The coming weeks will show which contact will lead to success. But one thing is already certain today: Berlin was worth the journey.