Whether you are attending WConnecta or another event with industry companies in search of collaborations, we're here to give you some tips on getting the most out of every networking event.
What is networking and how can it help me?
You've most likely networked without even knowing it on LinkedIn, at a professional trade fair or a business meeting. Events where entrepreneurs get to know each other and find partners for their companies through speed networking have been held for years in the United States. Behind this American concept is a marketing technique aimed at expanding the network of professional contacts by creating synergies, establishing relationships of trust based on mutual benefit.
Networking in the transport industry
Seven years ago the Wtransnet Foundation, believing that the world of road haulage –an industry so closely dependent on partnerships and building long-term, trusting relationships– needed an event of this type. The company thus launched WConnecta, an international meeting (which celebrates its seventh edition this year) for transport professionals that aims to provide a space for businesses to expand contacts and initiate new collaborations with other companies that complementary their needs.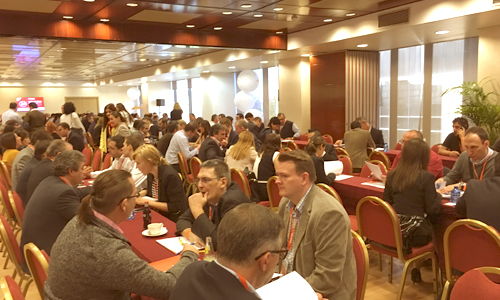 How to get the most out of networking
However, to make sure you get the most out of your efforts, it is important to consider a number of issues that will help you squeeze as much as you can out of every event:
Define objectives
Don't improvise
Differentiate
Don't close doors
Before attending WConnecta or another networking event you should ask yourself what your goals are and put promoting your company at the centre of these objectives. If your company needs to find trucks for a given route, expand the market in a particular country or simply come up with new ideas, approach the event in such a way that by the end of the day you can find the answers to these initial goals. Put into practice, WConnecta offers several tools that can help you meet your expectations for the event. On the one hand the possibility to choose the speed networking sessions in which you prefer to participate, according to your specialty or whether you are interesting in international or domestic routes.
Moreover, if you are looking for loads, you also have our Cargo Area, where you can find and request an interview with all logistics operators and transport companies offering loads. Previously arranged interviews will give you a 15-minute chance to talk with the most important companies in Europe who come to WConnecta looking for new partners.
It is extremely important that you be well-prepared for the event, which means preparing a speech and a brief company presentation to optimise the time you have when you sit in front of another participant. Think about what you would say if you had to present your company in the time it takes to ride in an elevator (the famous elevator pitch). When we talk about setting yourself apart we don't mean that you should become an entertainer, but rather that you focus your speech on what you can offer, adapting the speech to the company you're speaking to without losing sight of the fact that anyone you talk to (despite possibly seeming otherwise at first) might bring something to the table that you had not considered before. You just have to open your mind!
But networking does not end when you walk out the door. The WConnecta App lets you interact with participants before, during and after the event. Use it to find out who will be at the event and to talk to those who may be relevant for your company in order to break the ice before the event. The app also makes it possible to keep in touch with the people you met after WConnecta has ended, or to continue networking in case you were unable to speak with any of the companies you had an eye on.
Don't forget that the most important part of any networking event is to contact the maximum number of companies. Don't limit yourself: most opportunities arise where you least expect them. Your productivity is ultimately what matters most, so go beyond simply attending and participate fearlessly…and don't forget your business cards!