Summer is here and work in the transport and logistics sector is non-stop. This is one of the year's biggest spikes in work, and all of a sudden your regular fleet –either your own or one you subcontract– is completely booked. Where are all the trucks?
The answer to this headache lies in freight exchanges. However, many companies are hesitant to trust their customers' loads to new collaborators with whom they've never worked before.
Available trucks are on Wtransnet in the summer
Let's start by answering the question: Where are all the trucks during the summer? A majority are on Wtransnet, according to the data collected on the number of available trucks and backed by statistics from 2015 and 2016, a period over which the number of available trucks has continued to rise. The exchange topped 1.125 million jobs throughout Europe in September 2016, a 13% year-on-year growth. An upward trend that shows all signs of continuing in 2017: in May, Wtransnet registered over 1.5 million available trucks.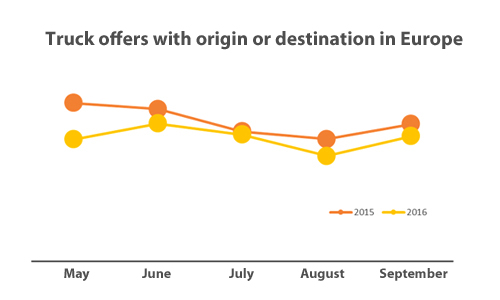 You supply the loads, we'll provide approved carriers
Out studies have shown that transport companies who register their loads on the Wtransnet freight exchange increase their opportunities and even boost their business in summer, when loads and trucks are under high supply and demand.
If the objective, both for agencies and logistics operators, is to find reliable carriers that meet all the safety standards required by such a demanding sector, the summer is the perfect time to make a clear commitment in the search for new relationships through one of the most secure platforms on the market. Create new business opportunities without the risk of assigning loads to an unapproved carrier: this is what Wtransnet offers as the optimal solution for managing the tough summer months.