The future will be smart: the most renowned brands will design their vehicles with integrated tech in mind. Improving safety, increasing connectivity and providing automatic driving capabilities are just some of the objectives that brands will introduce into the truck market in the future, along with multimedia entertainment systems and increasingly accurate satellite navigation. It's time for the digital revolution to make its way into trucks. Let's take a closer look at the most important innovations being showcased in ground-breaking new heavy vehicles.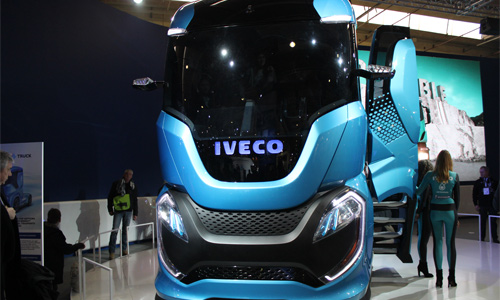 There are three categories that distinguish a smart truck from a standard truck are infotainment, connectivity and an ambitious future, represented by automatic driving. That said, these features are nothing new to those who already work with these types of vehicles; in fact, only a few improvements or tweaks are required to incorporate tech already available for cars, particularly when it comes to infotainment and connectivity. Volvo is working on creating a system that can simultaneously integrate mobile device management and GPS navigation, moving forward with connectivity while still focusing on entertainment – the Swedish brand now makes it possible for truck drivers to listen to the radio and stream music with both manual voice-control capabilities. Mercedes, meanwhile, turns its attention to Smartphone connectivity, working together with Scania to become the first to incorporate the Apple Car into the cabs of trucks, an innovative system uses voice-control and Siri to safely manage different applications like maps, checking email and listening to music.
So far, top brands have focused on features that have already been incorporated into vehicles (GPS, music playback, etc.). However, the most significant innovation comes from integrating fleet management into the vehicle's entire technological system. The sector's true future lies in this field, with Scania already managing 250,000 trucks with a system that allows remote diagnosis and fleet management with real-time tracking. The tech is integrated to such a high degree that the smartphone's camera can even be used to check how different vehicle parts are running. Volvo is also making moves in this direction and is working to monitor truck activity and the condition of its parts in order to create a system that prevents unforeseen stops. This is the beginning of a process that seems to ultimately lead to automatic truck driving and maintenance. Although it still seems like a dream, some brands like Mercedes and a few starts-ups are testing this possibility.
While the future still isn't quite here yet, all these changes are geared towards increasing productivity and efficiency when it comes to using heavy vehicles in the transport sector.