Wtransnet has been invited to participate to the Commission on Services to Road Transport Operators conference held by the International Road Union in Geneva.
For the first time since its foundation in 1996, Wtransnet has been invited to participate at the CSE international meeting held by IRU, the global industry association for road transport. During the conferences the guests have talked about the latest innovations related to the sector, starting from the introduction of the electronic CMR systems, ending up with the freight exchange and the concept of certified carrier.
The honour of participating in such an event is related to Wtransnet's commitment to build the most advanced and secure freight exchange platform in the road transport sector, Qualis Logistics. Keen on the developement of a safe environment for companies to operate with trust in a network, Qualis Logistics represent the natural evolution of the freight exchange concept that Wtransnet has been promoting in the last 20 years.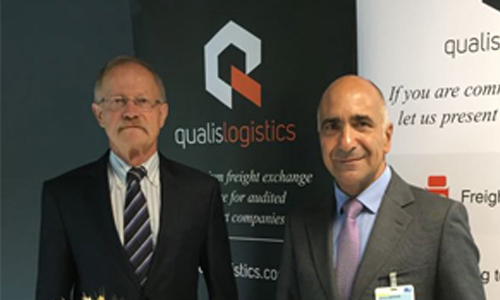 Born from the collaboration with DQS, the German auditing, certification and assessment body, Qualis Logistics answers the need of meeting reliable partners that already have available all the required certifications to start a partnership within the supply chain. The introduction in 2018 of a modified version of the ISO 9000 series – the family of quality management systems standards – means that identifying the threats and opportunities in the everyday working life has to be a priority for the companies in order to obtain a certification or mantain an existing one.
This legal change requires a totally different approach in the supply chain management, making it more complicated to answer to the logistics necessities of the companies involved. In this scenario, Qualis Logistics makes an important statement as it will be possible to find trusted carriers and partners that already have available the certifications needed to start a partnership right on the spot, as well as homologate a supplier. The accepted certifications are the ISO:9001 and 2800, TAPA, AEO, Trusted Carrier (BGL), GDP, SQAS and the Qualified Carrier (DQS).
The current and future trends in the road transport sector show that the idea of betting on a premium freight exchange such as Qualis Logistics that allows the access only to reliable and certified companies does not represent an hazard. IRU, the global industry association for road transport, believes in the same values. Its commitment in driving the sustainable mobility of people and goods across the world goes through the knowledge and the developement of technologies that allows to build a network, the same concept that Wtransnet is bringing to the sector since 1996.