Anna Esteve is a founding member of the Spanish freight exchange Wtransnet. Few know the company's family-run background, so today we learn more about the company through the eyes of an entrepreneur who decided to launch this adventure 20 ago together with her brother, Jaume Esteve.
It's 8:00 a.m., and while Wtransnet is just beginning to show signs of life as its 150 employees slowly trickle into work, Anna is already in her office having her weekly English lesson. Early tomorrow morning she will travel to Italy to meet with the sales team, but there are several urgent issues to take care of first: decide on the final adjustments for the trade fair in Paris that Wtransnet will attend in a few weeks, meet with the marketing department to decide on the key messages for Poland and an endless to-do list that she'll tick off one by one by the end of the day, when she leaves the office long after the last employee has gone home.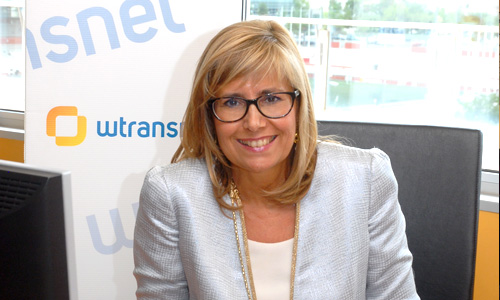 Although she currently serves as the company's International Sales Director, Anna Esteve has a degree in Law and began her career working in the legal department of a savings bank. She opened her own tax law office 12 years later, a move that gave her the chance to make contacts with the business world, which she says she's keen about. It is not surprising, then, that years later her brother Jaume, the driving force behind the Wtransnet concept, came to her with the project: "Wtransnet was the result of my brother's and my intimate knowledge of the transport sector: we are the third generation of a family of carriers".
Such direct contact with the industry gave them the opportunity to see first-hand the need for real-time information from companies with cargo at points where the company's trucks were empty when returning home. It was then that a third founding partner, Salvador Ejarque, told the two about a cutting-edge technology that could provide them with precisely this information in real time: the internet.
"When we became fully involved in this adventure, we had the vision of developing a platform that would serve as a meeting point between companies with complementary needs of cargo and trucks", says Anna. The vision the three had at the time was enormous: "We didn't really know what to expect and the years it would take to launch the project". Nor did they imagine all the difficulties they would face along the way, from economic setbacks and competition that copied their concept to a technology still in its infancy that caused certain disbelief in transport companies and the high rates phone companies charged for internet connection. However, they kept their eyes on the prize and, as Anna says, "it's been almost 20 years and we're still here, innovating and growing".
A female executive in a man's world. Anyone who thinks that this could have deflected Anna Esteve an inch off her career path would be mistaken. Anna is like a fish in water in a sector where most senior executives are men. "I've never felt like I've been treated differently because I'm a woman. When I'm negotiating with a large group at a European level, I sit at their level and I suppose this makes them see me as an equal".
Anna is optimistic about the presence of women in the sector. In fact, the Wtransnet workforce is 75% female, with ten of the 13 upper-management positions filled by women. "This can surely be extrapolated to other companies", adds Anna. To do so, the only difference between men and women is motherhood: "It's the way it is and it can be managed without hurting the company's progress. Our experience is that when a professional woman takes four months maternity leave she returns with the same commitment as before. You cannot punish what could easily be a 30-year career for taking four months off once or twice in a lifetime".
An enterprising spirit, Anna is always on the lookout for new projects and goals, which in her case are in line with opening new markets. "I'm personally developing the Italian market right now, with a local team we created there. My goal is to do there what we did in Spain a few years ago and position ourselves as the leading freight exchange in Italy".
Anna says that the world needs entrepreneurs and encourages all women who have an idea to see it through. "My advice for people who have an idea is to really study it and if they're willing to do what it takes to see it through then they should go for it. Do what's necessary, not merely what you can. That's what makes the difference: put all your passion into it and keep trying until it works".