For those not used to the magic of transport we don't have idea of all the work behind a truck circulating at  80  on the highway on which we are used to curse selfishly from our car.
Today DB Schenker opens the doors for us of its 10.000 m2 plants in Zona Franca in Barcelona. We are welcomed with the same vitality by its Manager in Spain of Direct Cargo (Half Cargo and full cargo) of Land Transport, Jordi Obach, an old acquaintance among Wtransnet's staff. Notwithstanding his apparel, he wears suit and tie, his place is among pallets and cargo dock.  Obach is one who comes up through the ranks, and grown up professionally in transport thanks to his efforts, After 29 years in the Company only few know more than him.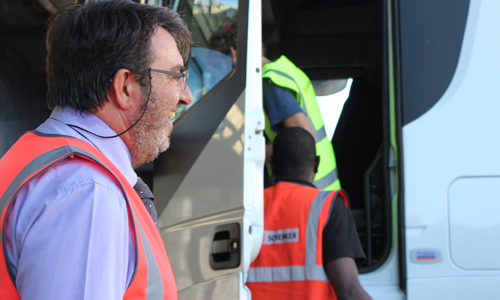 In 2007 the Spanish company Spain-Tir, that started its activity in 1975 with a transport service for Portugal, which was enlarged first to Europe and subsequently to all the Iberian Peninsula, merged into the German Deutsche Bahn Schenker. With this transfer, Obach says, not only were kept places of work but also the values of this family business where the character of the self-made owner was very strong: " We had to adjust to changes, because decisions are not so fast in a multinational, but on the other hand we gained in competitiveness, new opportunities and a way of working focused to results with medium and long term forecast".
DB Schenker has got 69 delegations in Spain, being Barcelona's the biggest, as well as its headquarters, since its warehouses are a gate for import-export goods from Spain to the rest of Europe. In one of its plants, goods that depart to Europe are received and stowed: "175 weekly groupage trucks depart from our decks towards the most important European capitals. fI we are good at it, cargos only stay in our warehouse 24-48 hours at least, depending on routes".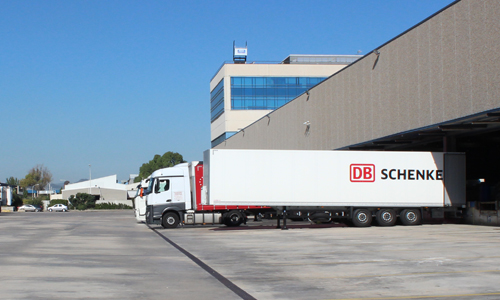 Before merging into the German logistics operator frame, Spain-Tir gained a reputation in goods road transport thanks to the groupage effective management. Having, since 1990, its own national transport network let them distinguish with a  transit time nobody could reach at that time. Nowadays, being part of its core business,  a differential value for the company they reach trough a sophisticated groupage system that allows them to carry out a personalized tracking of goods trough closed-circuit television.
Obach proudly shows us the volumetric scales that , after being labelled, photography, weigh and  calculate volume of all goods entering the warehouses. If something is lost, a typical CSI procedure is started, watching all video recordings since goods arrive to the warehouse. In few minutes the package is found.
We leave the loading dock to visit, in the offices, the  Medium and Full Loads traffic department. Jordi Obach enters joking and warning all to open Wtransnet's webpage. He explain us , form its operation centre, that his working formula is based on  outsourcing , since they only have an own fleet of 23 cab tractors and 70 semi-trailers. As a consequence search for partners has a vital importance: "We firmly believe in outsourcing that for us is not lack of quality.The difference is having tools that grant that partners you are working with are appropriate. To achieve it we have own tools and an internal protocols to approve/homologate each outsourced, a part form paying on time and in a granted way to get the best ones".  This lets Obach considering the outsourcing formula better than having an own fleet because this lets them to reach more places. In the end it's cooperation where both parts gain: "I am able to shoulder a big business network that supports it and my partners have the fleet that I don't have got. Well understood synergies let us to move forward together and grow both".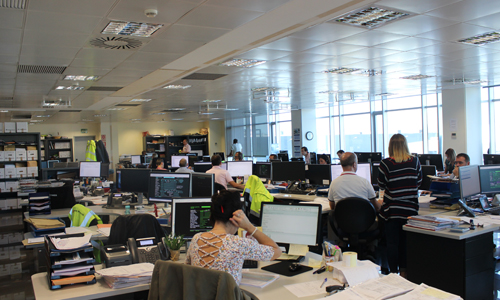 It is therefore not surprising that, understanding collaborations as him, DB Schenker Spain has developed with Wtransnet's technology its own private freight exchange, through which share information of transport suppliers and loads among all national delegations. The scope is to optimize and strengthen these collaborations in order all the trucks that circulate on its transport network go full with own group's loads.
We ask him about suppliers' certification with regard to Compliance issue. He calmly smiles knowing he did things right. These proceedings and quality controls have been integrated because in Germany for many years there is a similar law.
Jordi Obach will continue for hours speaking of his job, he can't conceal passion in his words, but he has matters to care about and loads to ship. So we say goodbye with the commitment of not forgetting this appointment each time a truck limits our speed on the road.