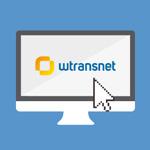 Wtransnet decided to present the latest version of its website after the recent launch of its new app.
Leader in the development of online platforms for the transport and logistics sector, the company not only revamps the design of its public website, but also improves the platform's login system and offers much more agile browsing tailored to tablets and mobile phones.
In addition to being able to view the freight and trucks available in real time without logging onto the platform, users can now more intuitively access the various services and solutions.
Logistics agencies and operators improve their responsiveness to the end customer because they can find the best approved carriers in record time. Also, transport companies ensure that their trucks are always loaded, hiring other trusted carriers of confidence if necessary.
Likewise, independent carriers improve contract finalisation with trustworthy companies,  enjoying the payment guarantee option. In fact, the possibility of ensuring the trip through the online payment guarantee remains one of the most valued and used services on Wtransnet, the only freight exchange that guarantees payment for transport across Europe before loading the truck.
In short, the design of the new website, much more intuitive and user-friendly, is a one-stop shop for all Wtransnet services, streamlining browsing and helping users find the information they need faster, which results in increased efficiency and enhanced competitiveness.