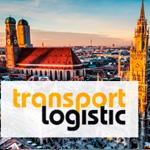 Wtransnet comes to Munich, considered the most important transport and logistics fair in Europe, with a value proposition for all companies working with Southern Europe.
As a leader in traffic to the south and, given that this represents 20% of the total for German and Austrian companies, Wtransnet is presented as the best partner to trade with this type of markets, originally classified as "complicated" by their high rate of slowness in paying and due to cases of theft of goods.
During the fair, Wtransnet will present its freight exchange as the only one that does not admit manufacturing and trade companies and also the only one in the market offering an online payment guarantee service.
Europe's safest freight exchange bases its success on building long-term relationships and offering its partners the opportunity to work with creditworthy companies, which are not found in other exchanges, as well as approved carriers, who have accepted an ethical code of conduct before entering the exchange.
Wtransnet will also showcase its new app for mobile devices.